This is a free post from Markets Weekly, a weekly newsletter by Alexis Goldstein, a former Wall Street professional who worked with Equity Derivatives trading desks. To get access to all posts each week, you can signup here.
July 14 was the first day of much-anticipated earnings by banks, and a look into who the winners have been from the Fed's actions to bring liquidity to the markets in the middle of the pandemic. It really shows the tale of two economies: while half of the nation remains unemployed, JPMorgan notched record trading revenue in the second quarter.
JPMorgan's bond-trading division brought in a record-breaking $7.3 billion, a staggering 120% increase from a year earlier. It led the bank to its highest quarterly revenue ever. Its investment banking division also feasted on fees, as corporate debt markets ran hot thanks to the Fed. Investment banking revenue climbed 91% to $3.4 billion on record advisory fees.
JPMorgan's success in their bond trading and investment banking comes on the heels of the Fed's unprecedented intervention in the markets.
Using $454 billion from the CARES Act, the Fed has levered those funds up 10-to-1 to make $4.5 trillion in loans and purchases. $25 billion of that taxpayer money went to the Secondary Market Corporate Credit Facility to purchase corporate debt and ETFs that track corporate debt. Since the Fed merely announced this new program, credit spreads (which measure the difference between the interest on a U.S. Treasury bond and another bond of the same maturity but different credit quality) tightened substantially:
This confidence injection by the Fed made it cheaper for companies to issue new debt, and more attractive to investors to purchase corporate debt. All of that translates into profits for megabanks like JPM: more debt issued means more fees for their investment bank division, and more investor confidence meant more trading volume at big bank's fixed income desks.
Citigroup also saw a boost in their trading revenues: a 68% increase versus last year.
But all wasn't well in the banking sector today. JPMorgan also set aside huge sums for future loan losses: $10.5 billion to cover potential losses.
But the worst news came from Wells Fargo, who reported a net loss of $2.4 billion, their first loss in a decade, and cut their dividend to $0.10 a share (down from $0.51/share). Wells Fargo has never had the success in either trading or investment banking as the likes of JPMorgan, so they're inevitably going to profit less from the hot corporate debt markets. But their failures have recurring, from the fake accounts scandal to illegally repossessing the cars of military memebrs to discrimination in lending (itself a recurring problem at the bank). You can see their decline as their share in the S&P 500 has fallen since 2008 and never looked back: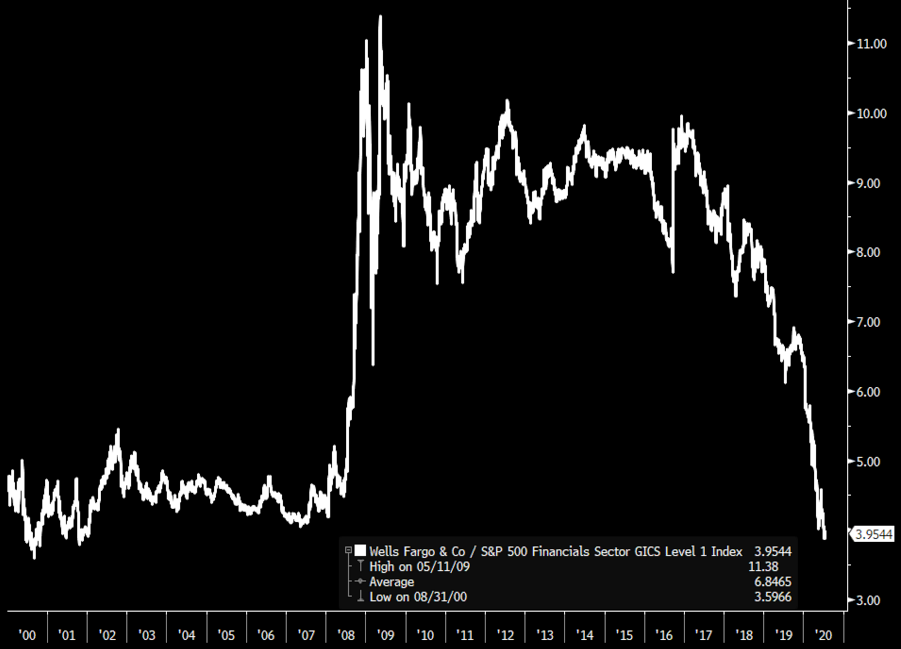 Earnings continue this week with Goldmans Sachs reporting Wendesday pre-open and Morgan Stanley on Thursday, both firms that, like JPMorgan, will likely see higher trading revenues off increase fixed income activity. We'll also see Netflix earnings after the close on Thursday, and see an indication of just how long the tech sector can continue to hold up the S&P 500.
Tech stocks are now the largest portion of the S&P 500 they've been since the 1999 tech bubble: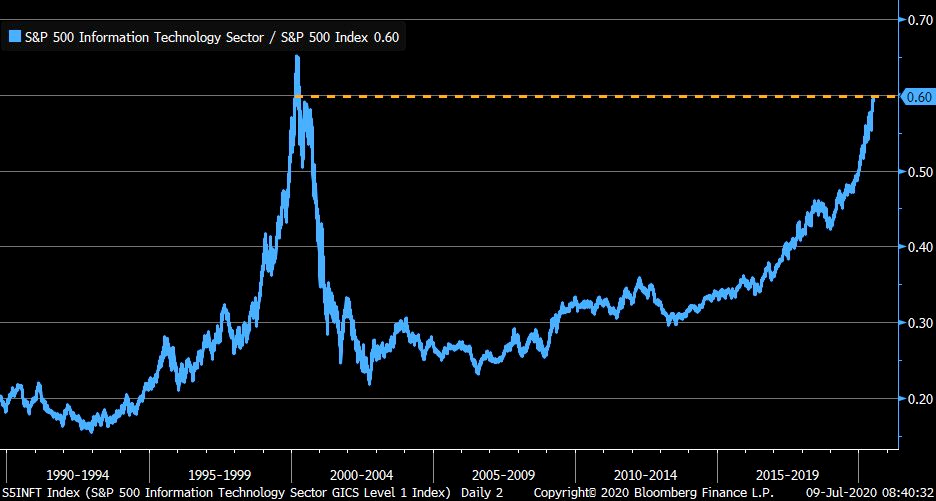 Meanwhile, Congress has a mere 11 days until the expanded unemployment insurance benefits run out, and the Republicans continue to feel no urgency to extend them in full. It seems another market correction is the only thing that will get Senate Majority Leader Mitch McConnell – who practically wept on the Senate floor when futures trading was halted back in March – to act on another fiscal stimulus.
As the nation states down a wave of mass evictions with no means to formally track them, and the end of the student loan payment suspension on October 1, despite the success of tradings desks at JPMorgan and Citigroup, it seems the worst economic news is yet to come.
---
This post was made public the day after it was posted for subscribers. To receive all posts, and get all my commentary on the financial markets, economic policy and regulations, become a premium subscriber.