This is a free post from Markets Weekly, a newsletter by Alexis Goldstein on the financial markets and economic policy. To get access to all posts each week, and support the project, please signup here.
Millions of U.S. residents are struggling severely, likely to face eviction or foreclosure in the next two weeks, and often going hungry, according to the latest Household Survey Pulse data released by the U.S. Census.
The findings are a shocking illustration of our K-shaped recovery – the notion that the economic recovery has two tracks: one where the wealthy are getting wealthier as the stock market booms and asset prices soar, and one on Main Street, where millions are on the precipice of ruin.
The new Census survey data, which is being collected to measure household experiences during the coronavirus pandemic, covers August 19, 2020 - August 31, 2020. Here are some of the most eye-popping parts of the latest data.
Nearly a quarter of those who sought UI didn't receive it
Almost 12 million people who applied for unemployment benefits did not receive it – that's 24% of the over 50 million who applied. The numbers are even worse for certain demographics
24% of seniors who applied for UI did not receive it
30% of Black people who applied for UI did not receive it
30% of multi-racial people who applied for UI did not receive it

In nine states, over 12% of adults are going hungry
In nine states, more than 12% of adults reported they either sometimes or often had not enough to eat in the last 7 days.
Mississippi is facing the worst food scarcity issues, with 14.5% of adults going hungry in the last week: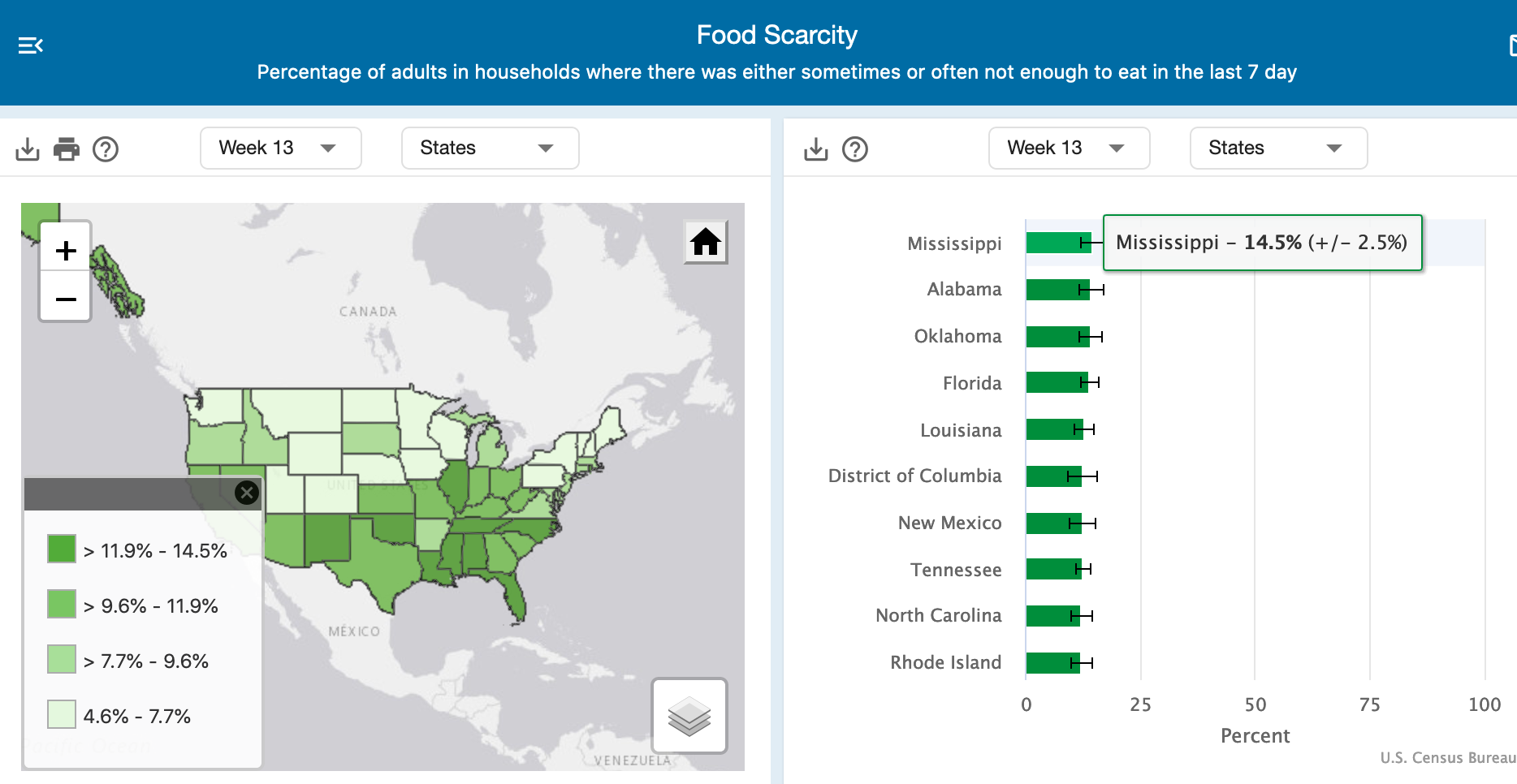 In six states, over 9% of their residents are housing insecure
Six states -- Louisiana, Maryland, Florida, Nevada, Oklahoma, and New York – have 9 percent or more of their residents facing housing insecurity.
Major cities are also facing housing insecurity, with the worst in the Riverside-San Bernardino-Ontario, CA Metro Area, following by Miami, Houston, LA, and the New York City metro area: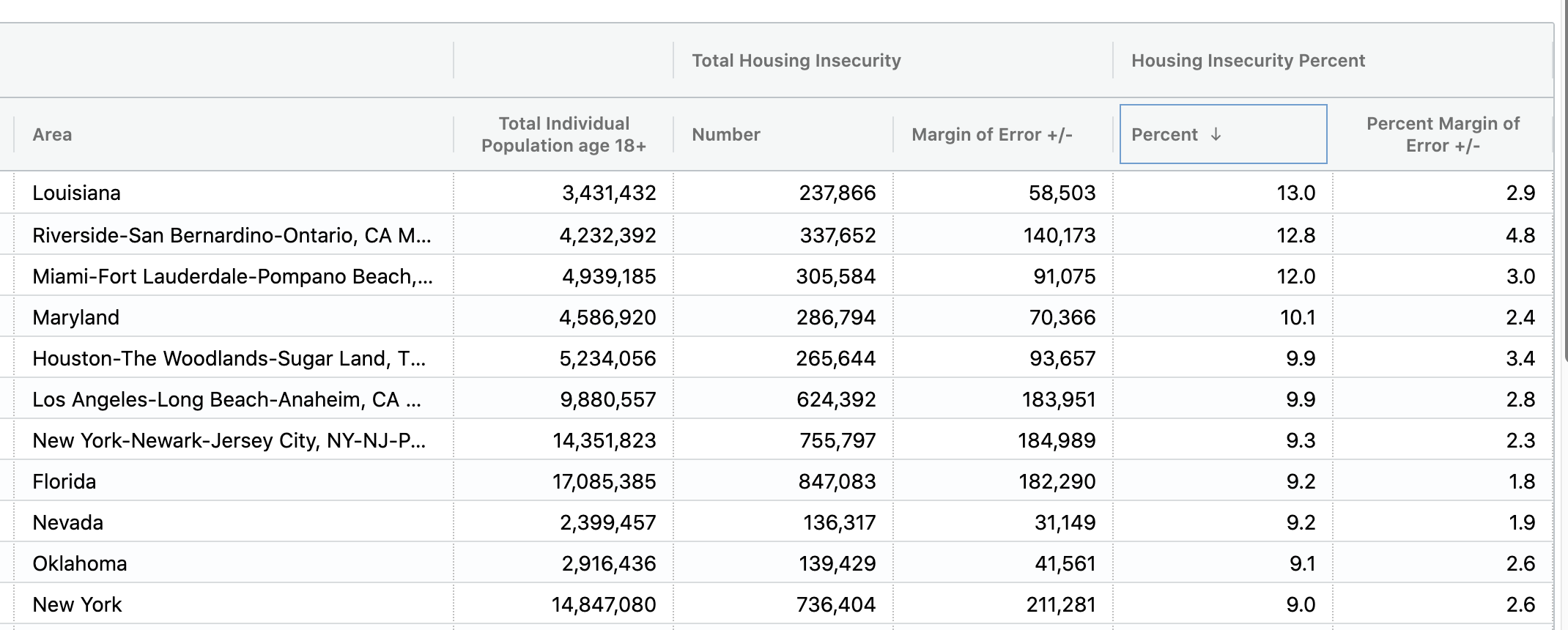 2 million people are using credit cards or loans to avoid eviction or foreclosure
More than 2 million people are using either their credit cards or loans to avoid losing their home in the next two months:
Over 1.24 million people (a whopping 47 percent) are very or somewhat likely to use credit cards or loans to avoid eviction in the next two months
Over 762,000 people are very or somewhat likely to use credit cards or loans to avoid foreclosure in the next two months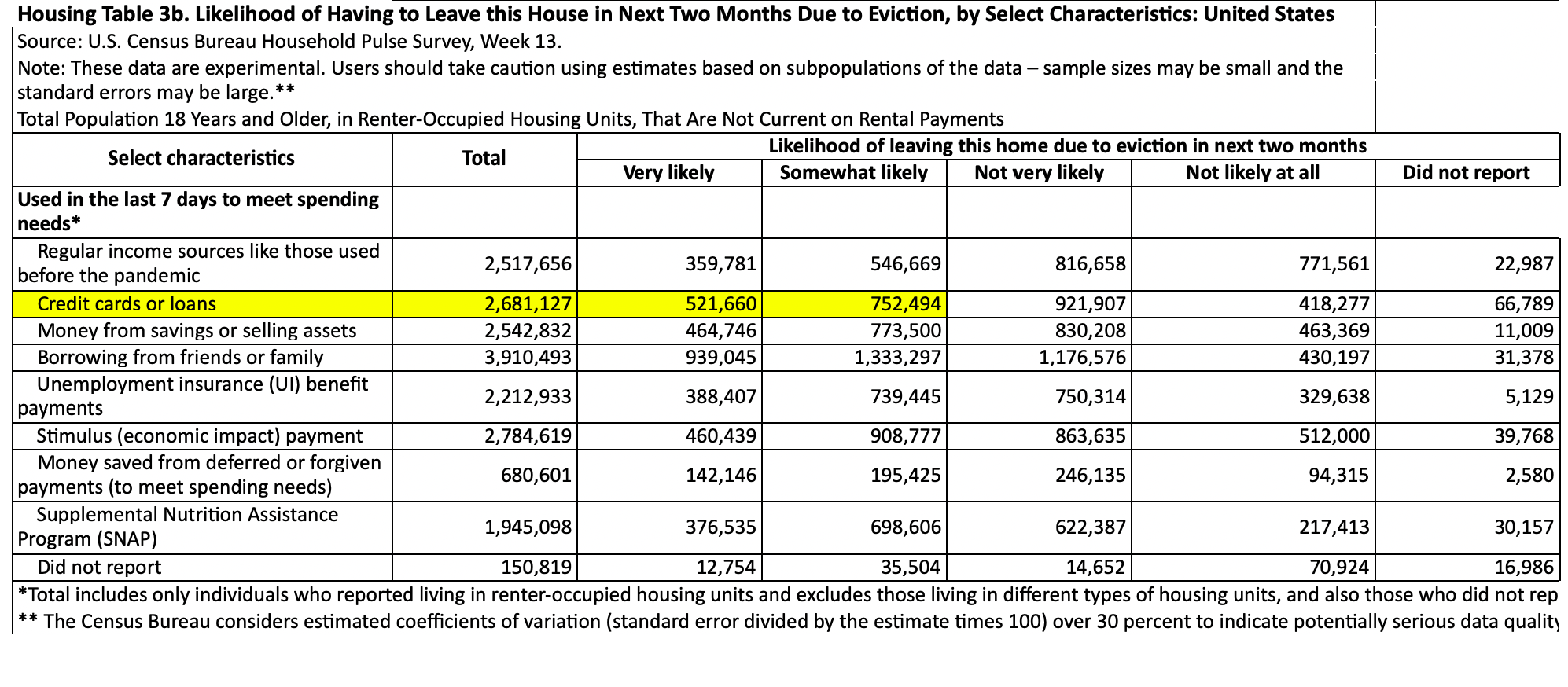 The pandemic is taking a toll on our mental health
The data also shows the impact of the crisis on mental health, with over 100 million Americans reported feeling down, depressed or hopeless over the past week: